Blog Home
5 Keys To A Successful B2B Website

If your business sells to other businesses, there are website best practices you should follow, and some of these may be different from the normal features on a retail/B2C website. Here are some important considerations that will help you launch a successful B2B website:
1. Customize the experience by customer - and user
You have relationships with your business customers, and you likely know far more about them than the average customer who visits your site, so leverage that knowledge to personalize their experience on your website. Deliver an website that gives them:
Their products
at their prices
with their shipping methods
to their shipping addresses
with their tax status
using their payment methods/terms
If you want to stand out from your competitors, give your customers an eCommerce experience that's just as personalized as the service they get from your sales reps. You need to deliver this at both the customer and user levels, since your B2B customers may have employees with varied roles and needs.
2. Provide easy ordering tools
Product catalogs are great for helping customers discover new products, and shopping carts can be a good way to route new customers through the order path.
Most of your B2B customers, however, don't have the same needs - so why make them order the same way?
These business customers likely order the same types of products (if not the same exact products) repeatedly, so why make them go through the hassle of finding products and going through your shopping cart checkout? Instead, make sure your B2B website is equipped with one or more of these tools to facilitate easier ordering:
Quick Order Tool
Think of this like a free-form shopping cart page. The customer enters the SKU/part number of the item and the quantity on each row of the form, then the order is pushed right to checkout.
For bonus points, enable type-ahead functionality and/or a search box in the SKU field.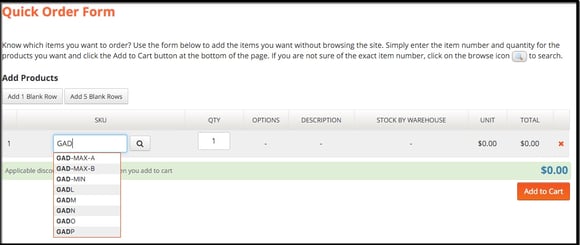 Repeat Ordering
From an order history web page, allow your customers to load any prior orders directly into the shopping cart, where they can then update quantities and add other items. This is a great tool for business customers who buy the same products at irregular intervals.
Subscription Ordering
If you have a business customer who orders the same products at regular intervals, offer them a subscription ordering solution on your website. This is a sure way to encourage customer loyalty and a superior customer experience.
3. Provide complex ordering tools
Product Configurator
If you have build-to-order products, or products that have components dependent upon other components, your customers are likely ordering via phone, fax, or email. But they don't have to. Your B2B website can unlock the tribal knowledge that lives in the heads of your customer service reps, and your ERP, to efficiently process customizable orders online.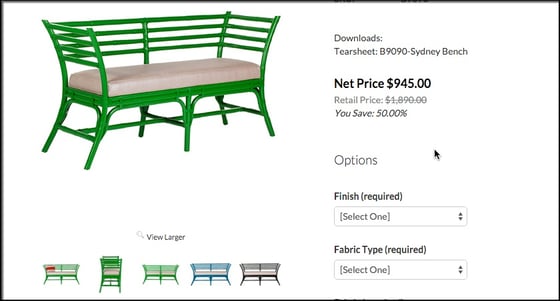 Bill of Materials
Do you track and/or sell the sub-assemblies that make up your finished items using a bill of materials? Use that BoM information, combined with an exploded parts view diagram, to create a product page on your website to help B2B customers find exactly the component or sub-assembly they need to order.
Other tools to help enable complex online ordering for your business customers include parent-child product relationships, and product kitting.
4. Allow your sales team to log on as their customers
Most successful B2B companies have strong sales teams, either internal, external, or both. If your salespeople are placing orders on behalf of your customers, they can do it on your website - even from a computer or smartphone.
Sales reps should also be able to build online quotes for their customers, which can then be edited and converted directly into orders.
5. Let customers do all their business with you online

There are other activities that help your customers grow their business with you, and nearly all of these can be conducted online, which helps you service your customers better, faster, and cheaper. Here are a few that are frequently mentioned by our customers:
View Sales Order History
View Sales Orders
Track Shipments
View Accounts Receivable
View Invoices
View Aging
Pay Invoices
View Payment History
If you implement the features discussed here, your B2B customer website is sure to be a success. Your customers want tools that make it easy to do business with you on their terms.
Need more ideas about building successful websites? Subscribe to our blog for notification of each new post.