Blog Home
Which Kinds of B2B Companies Need eCommerce?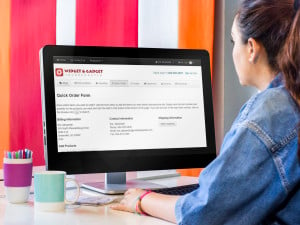 Here's the short answer: any B2B company with customers.
For the longer answer, read on!
Word association: eCommerce
People hear the word "eCommerce" and tend to think of a typical retail-oriented B2C website, with a product catalog, shopping cart, payment, and ordering. Many small to medium business owners think that this type of eCommerce doesn't necessarily apply to their wholesale or distribution customers, and many companies choose not to sell their products online this way, either to existing or potential customers.
eCommerce: More than a shopping cart
Let's think about the activities that occur between companies and their B2B customers and how those activities are performed by both the customers and the company. Your customers interact with you for many reasons beyond simply placing a one-off order in a traditional shopping cart:
Placing a custom or complex order
Checking the status of a sales order
Inquiring about inventory levels
Requesting tracking information for a recent shipment
Getting a copy of an open, aged, or paid invoice
Learning their open account balance
Paying an invoice
Updating their account information (users, addresses, shipping methods, etc)
You'll note that many of these activities happen regardless of whether you sell physical products or not, and that's why any B2B company with customers will benefit from eCommerce - including service companies.

Allow the customer to self-service
Though the above is not an exhaustive list of customer activities that B2B companies perform, it's a good base for consideration. Without an eCommerce site for B2B customers, all of the above activities require manual work from both your customer service team and the customer, which means that the customer can only conduct business with you on your terms - while your business is open, while your reps aren't on the phone with other customers, etc
A true B2B eCommerce site, on the other hand, allows your customers to do business with you on their terms. They can conduct any of the activities above (and many more) through your website at any time, from anywhere, and using any device.
According to this Forrester report, B2B customers are increasingly moving to online channels because of these advantages. In addition to the benefits to the customer, this also increases customer service efficiency and can significantly reduce your overall customer service expenditures.
If your business has customers, you will benefit from having an ecommerce presence for your business-to-business customers, both in terms of growing your customer base/sales and reducing your customer service expenses.
If you don't offer eCommerce capabilities, how long until your customers find someone who does?