Blog Home
How To Connect Your ERP To Your E-commerce Website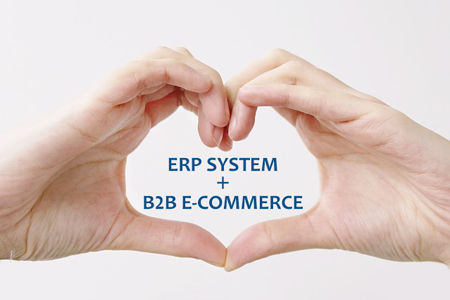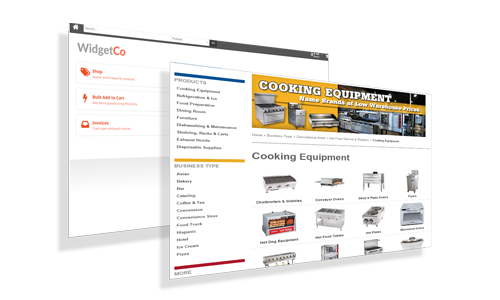 If you are a business and not using the internet to sell your products to consumers, you're already well behind the curve.
The vast majority of business-to-consumer companies are already well aware of this. But what about business-to-business models? Most B2B companies are in varying stages of online e-commerce migration - but is that enough?

For an online e-commerce strategy to work for B2B as well as it does for B2C, there are a few very important things to consider.
First and foremost, consider the way that customers make purchases in a B2B model.
Unlike simple B2C transactions, a B2B business must account for multiple ship-to addresses, payment methods, accounts, customer-specific products and pricing levels, POs, and invoice management in order to be successful in selling products online.
These features are essential to B2B customers, and a simple shopping cart is never going to be enough to handle large scale accounts with complex needs.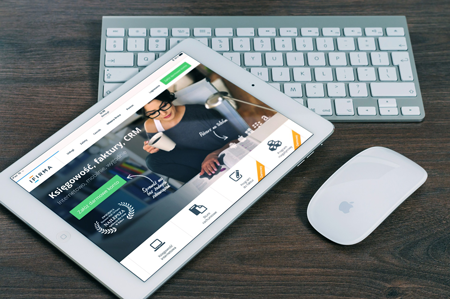 For that, you must invest in an e-commerce platform that is built for B2B. You can try to make it work with a cheaper, more widely available alternative, but you will likely spend more time and money in the long run trying to turn it into something it was never meant to be.
Secondly, there is the piece of the puzzle more often forgotten about when trying to transition successfully into e-commerce, and it has to do with how all your systems work together.
Once you have your e-commerce platform in place, you're going to start getting a flood of orders that you now have to somehow get into your ERP for fulfillment and tracking. How do most SMB handle this problem? For the vast majority, the knee-jerk response is to use employee time and resources to manually re-key these orders one-by-one into the ERP. Annoying at best, damagingly inefficient at worst - this method is not recommended as a long term solution.
So... the million dollar question is, how do you get your e-commerce orders into your ERP?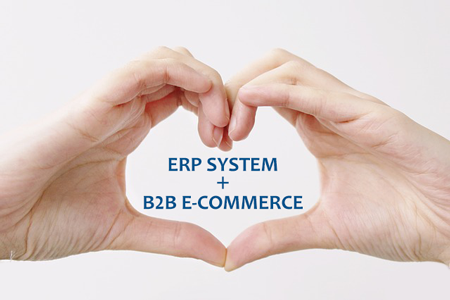 If you are using a mid-market ERP platform such as Sage or Microsoft Dynamics, there are three main ways you can achieve a unified system.
Option #1 - The Quick and Dirty
Add a simple Sync Tool between an existing ERP and existing e-commerce platform, such as Magento or Shopify.
PROS Lower initial investment; doesn't take much time to implement; an easy temporary fix; doesn't affect current investment of time or money on current e-commerce platform
CONS
Significantly less functionality than a webstore with built-in connection. May not have basic customer portal or ERP historical data

Generally only provide a very high-level integration. For example:

Usually no more than a simple order importer

Credit Card payments do not flow into ERP

Taxes, terms codes, item pricing, item descriptions, inventory, etc. may need to be managed in multiple places, including the webstore and ERP

Although a low price point, total cost of ownership is usually very high

Synchronization is usually performed manually and webstore is often out of sync with the ERP

Support may be an issue as the webstore or ERP changes versions

Many of the most popular e-commerce platforms are not well suited for B2B; customization often falls short and is very costly
Average Cost between $5,000 and $10,000 initial cost + e-commerce platform custom development and modifications
Option #2 - The ERP-Integrated E-commerce Platform
Switch to an e-commerce platform with a built in connection to your existing ERP.
PROS Instant, real-time data flow between platforms; built around native ERP functionality; all systems work as one; relatively easy to implement; reasonable budget; one point of contact for support, issues, upgrades, add-ons, etc.; keeps current ERP system in place (only a benefit if you love your current system)
CONS
Loss of time and money investment in current e-commerce platform

Keeps current ERP system in place (only a negative if you are not happy with your current ERP)
Average Cost $15,000 - $40,000 initial setup and software (includes training, implementation, data migration) + $500-$1,000/month for hosting, support, and website management
#3 - The Complete Overhaul
Replace your ERP software and e-commerce platform with one unified system.
PROS Native functionality and integration right out of the box; one point of contact for support, issues, upgrades, add ons, etc.; all-in-one solution
CONS
It's like changing the engine in a plane while you're flying - must shut down all systems and manage downtime during implementation

Huge project impacts entire company

Costly - stuck paying high monthly fees for the life of the product

All products, pricing levels, customer data needs to be moved over
Average Cost $1,000 - $15,000/month for mid-market edition + $100-$600/month per user + data migration cost + customization cost + training cost + implementation cost
As you strategically position your business for growth in upcoming years, e-commerce will be a central to getting, keeping, and growing your customer base.
Moreover, if you primarily sell B2B, functionality that fits your business model and integration with existing software will be essential in making your e-commerce campaign a success.
Read more about how Website Pipeline ERP integration works.