As a B2B company, there are few things you can do that boast a return on investment quite like implementing an e-commerce option for your customers.
Much more than a passive web presence, an ERP-integrated e-commerce website from Website Pipeline empowers your customers and increases sales opportunities exponentially. Believe us, our customers tell us all the time.
Although we do have some out of the box packages available, most of our clients decide to pick and choose which functionalities make the most sense for their customers and accounts.
Because of the highly customizable nature of our integrated websites, plethora of options available, and unique challenges we know each business must overcome, we tailor the package to you.
We want you to get exactly what you need, and nothing you don't. That's why you won't find a flat rate on our website, and it's also why the only way to get a truly accurate estimate for your project is to schedule a demo meeting with us.
Our sales team is incredibly knowledgeable, and can help you decide whether or not this is a good fit for your business, and what options suit your individual methods and customer base. And hey, if we aren't the right e-commerce platform for you, no hard feelings.
If you need at least a rough idea of what an e-commerce integrated website costs before spending time in a demo, we totally get that too. Let's break it down, shall we?
The software and initial integration with your ERP
Starting at $15,000 for the B2B base package | Compatible with Sage 100, 300, 500, X3 and Microsoft Dynamics GP, AX
Implementation cost will vary, depending on what functionalities and processes your business needs. $15,000 will get you started with a simple ERP integration and B2B purchasing/catalog options. Your customers will get account access, be able to make payments, view orders, track shipments, and see their individual invoices online. They see only their pricing, tax, and shipping methods based on their pre-negotiated terms with you.
From there, you can add on as many robust tools and e-commerce capabilities for your existing accounts as you like. We have more a la carte options than any other e-commerce platform designed specifically for B2B transactions.
If you want it all, you can have it. The most comprehensive ERP-integrated e-commerce package on the market is built by Website Pipeline, and includes fully functional B2B and B2C stores, with the flexibility you need and powerful tools for doing business with a wide range of customers.
The monthly service package
This includes everything you need to run, monitor, and host your website.
Starting at $500 per month, depending on service level
After the initial setup and integration, Website Pipeline continues to support your new website. The monthly fee covers many of the things you are already paying for, and consolidates them into one payment.
By combining your e-commerce solution with these other nickel-and-dime costs, you will save a lot of money. You can also entrust your website with a single company that knows you and knows all about your business, and will help discover new ways to make your life easier, as well as keep all the moving parts running smoothly.
Although monthly fees may vary depending on order volume, the quality of service does not.
What to expect in your monthly service plan: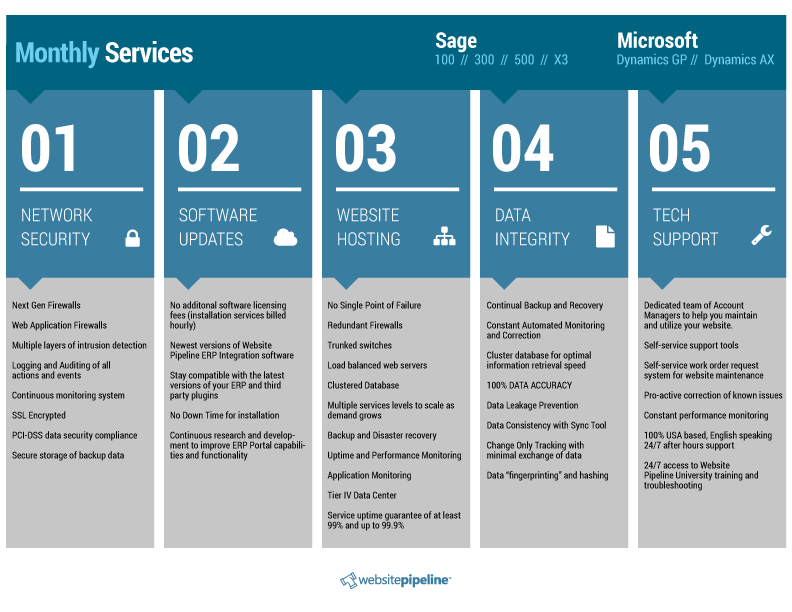 Additional Services
If you require additional services beyond what is included in your monthly fee, our in-house team may be able to assist you at an hourly billable rate, which varies depending on the nature of your request. We have designers, programmers, developers, and technical experts all under one roof.
Examples of billable time include:
optional/custom design work

consulting, custom development and coding

other tasks above and beyond the standard scope and capabilities of the website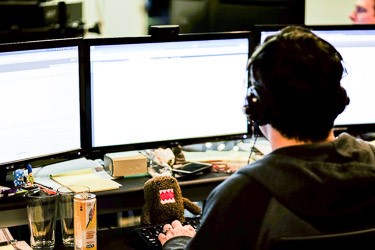 So there you have it. A (very) brief summary of what we can do and how much it will cost you.
If you want to know more about our product or pricing, please click the button below to schedule a call with us. We would love to get to know you, and learn how we can help you take the next step in growing your business with an ERP-integrated website.

---
<a href="http://www.freepik.com/free-photos-vectors/icon">Icon vector designed by Freepik</a>