I work directly with customers to service their Website Pipeline website, and I also provide support for upgrades on existing websites. I also do design consultation/work for existing sites, and work on developing responsive solutions for existing customers.

I also shoot interns with nerf guns on occasion.

What's the funniest thing that has happened at Website Pipeline?
I passed out cradling an Ethernet cable in the conference room during FedEx Day. Our CTO, Eric Ward, took pictures. His wife saw and asked who's that stud.
What's your favorite hobby?
Wakeboarding.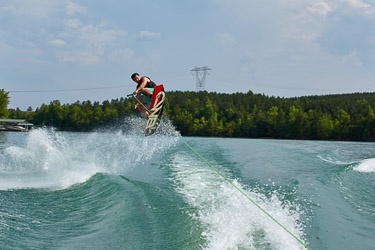 My whole life I grew up around board sports. Since there was no snow down south, the first thing I turned to was wakeboarding. I was on a Christian wakeboard team called Southtown riders for about 5 years. I helped teach wakeboard lessons, worked on charity events, wakeboard contests, and built the team website at that time.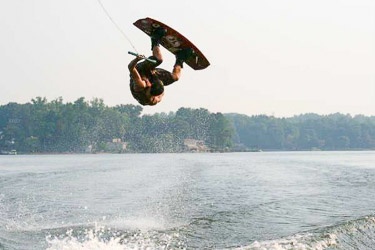 I Also competed in national contests for the same amount of time. Whenever I am back home in Tega Cay, SC, you will almost always find me on my wakeboard behind some boat.
What TV or movie character would you be?
Iron Man.
What else would you like people to know about you?
I competed in a national web development contest in high school placed first in the state and 10th or 12 th in the nation. The organization that the site was built for eventually bought it from me and that's how my freelance web development career started.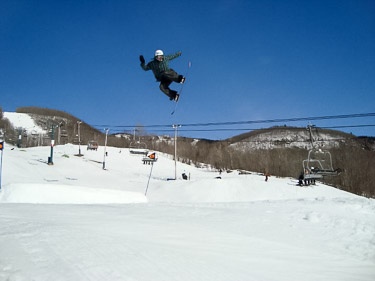 I'm an extreme adrenaline junkie. Anything the makes your heart stop is probably what I'm trying to do. I have a ton of crazy stories - here are a few:
I jumped off a bridge infront of a power plant on Lake Wylie and immediately got met by law enforcement. I love jumping off bridges into the lake, so I wasn't aware that it was a big deal.

I jumped off a bridge in Tennessee that we had to climb down the trusses to be at a point where we wouldn't die. My wakeboard sponsor had to call my mother to get approval prior to me jumping. She was not happy, but I still proceeded to jump.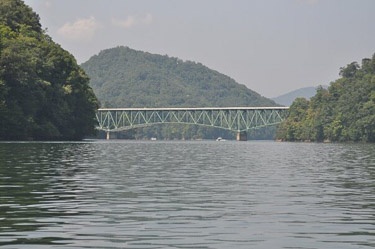 I love to wakesurf late at night on the lake. We wait until the sun goes down, crank up the speakers and lights on the boat, and then wakesurf down the lake with glow sticks attached to our life jacket. This helps the boat driver not run you over.
Any other Danny stories?
One winter we went down to the Florida Keys to go fishing. My buddies and I went out in the Everglades to catch some fish and drink some beers. We saw a storm coming, but it wasn't going to faze us. After half a case of beer, and a bucket of sea trout, we ready to head back.
About 20 miles from land, and as it was getting dark, we realized we were stuck in water that was too shallow to move the boat. We thought we would be stuck at least for the night, so we busted out the bug nets and prayed we wouldn't get malaria.
After about 2 hours passed, I looked at my body and realized I had so many bug bites, a doctor might say I had chickenpox. My fight-or-flight instincts kicked in at this moment, so a friend and I jumped into the water. We just started pushing the boat with absolutely no clue where the closest passage was we could get the boat through.
After another 2 hours in the water getting destroyed by bugs and pushing the boat, we finally found the canal that led us out. We jumped back in the boat and started moving, but realized we had no clue how to get home. We start driving in what we have think is the right direction and a massive beam of light like some sort of alien ship starts buzzing by us. A few minutes later the light comes back and stops above us. Then a voice comes out of the lights with our names and stating they are us coast guard. A US Coast Guard helicopter and boat guided us from the middle of the Everglades back to land.
Danny is one of 60+ Website Pipeline employees, all of whom are in North America. Be careful what you ask him about what he has seen in Thailand. You can learn more about the Website Pipeline culture on our website, or visit our Meet The Team page to see more WSP employees.