Blog Home
Website Pipeline Goes To Sage Summit 2016 in Chicago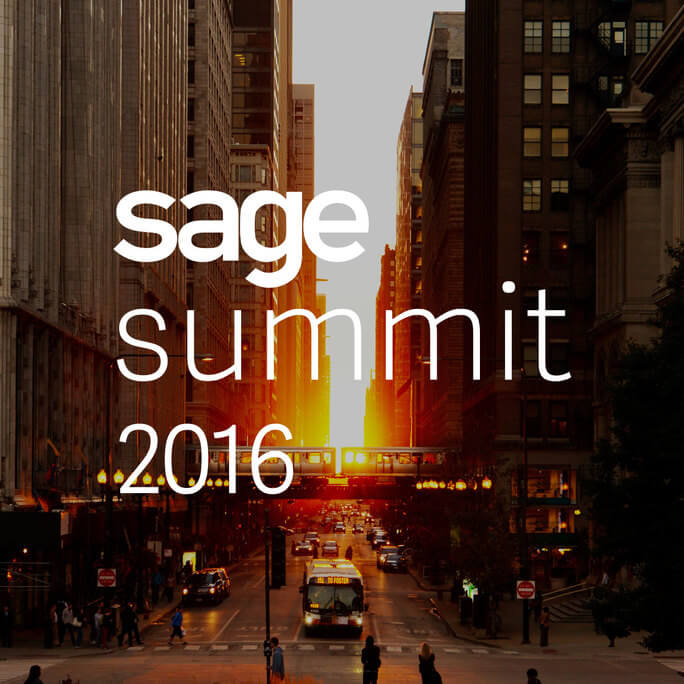 So we went to Sage Summit.
...and it was awesome.
Not only did we get to attend some extremely beneficial and educational sessions, but we also got to spend time with a multitude of our longtime customers, partners, and friends.
The annual conference is a gathering place to learn about the latest and greatest in Sage ERP technology and business practices, but for Website Pipeline it is so much more than that.
As a company, one of the most fundamental components of our business are the relationships we have with our customers and our partners. Sage Summit gives us an opportunity to meet with them face-to-face, learn about their businesses, and how we can better serve their needs.
It is a time when we get to know the industry, and the people in it, better.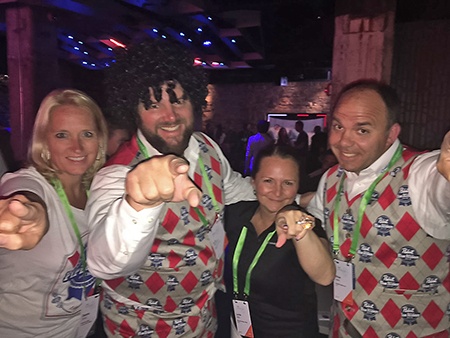 Our friends from Micro Accounting, Deanna Carrillo and Lorrie Harris with co-founders Eric Alexander(Slandy) and Brian Seidel
This year, the show took place at the largest convention center in North America, McCormick Place in Chicago, IL. The windy city welcomed thousands of entrepreneurs, business owners, software technology companies, and Sage constituents from around the globe.
With more than 20,000 attendees registered (some tuning in to Sage Live to experience the show remotely), Sage Summit is the largest gathering of entrepreneurs worldwide.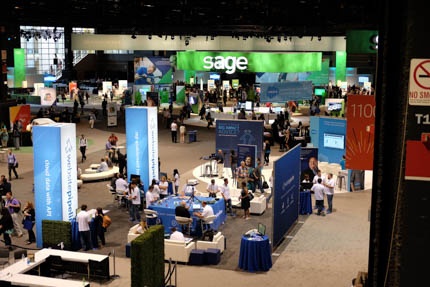 As you can imagine, the atmosphere leading up to opening day was one of excitement and anticipation.
Monday marked day 1 for Sage and its partners, as they met to discuss market trends and ways to move the industry forward. Speakers included Sage CEO Stephen Kelly, who gave remarks on the state of the company, Sage CMO Santiago Solanas, imparting advice on how to drive profitable growth through marketing, and Daniel Susskind, commenting on changes in the account industry and how to respond appropriately.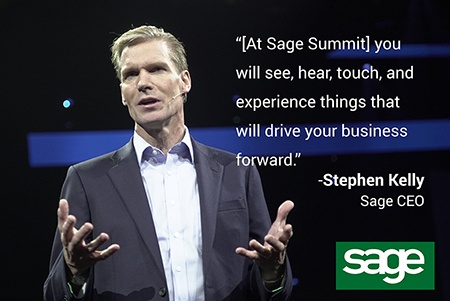 After a full day of meetings, the partners were treated to a cocktail reception in the McCormick ballroom - complete with a live band, dancing, good food, and drinks. The band was so good in fact, Website Pipeline co-founder Eric Alexander didn't leave the dance floor for the entirety of the event. He was the one at the front of the crowd, passionately fist-pumping and bobbing his head to the music.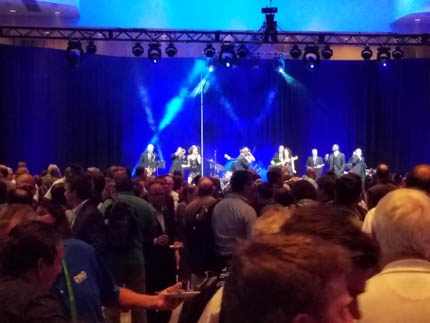 Can you spot that infamous, lovable beard in the crowd?
The next day, the main conference kicked off officially and sponsors, customers, and software vendors hit the floor running.
Website Pipeline gathered quite the crowd early on thanks to an attention-grabbing booth, 2 hoverboards, a friendly round of cornhole competitions, and a crew of 21 team members who conversed with attendees on everything from Sage ERP integration to e-commerce.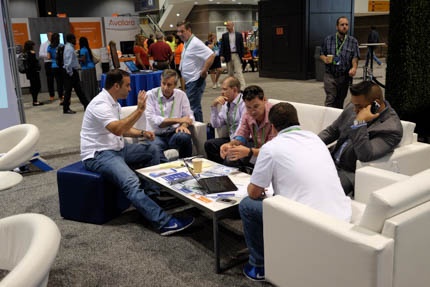 Our CEO, Brian Seidel, presented to a packed audience on navigating the complex world of ERP, CRM, and e-commerce software, explaining how they are all connected and discussing ways to make the most of this technology collision.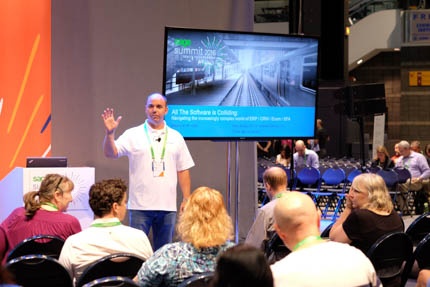 That night, Website Pipeline, along with sponsors - Avalara, SWK, Scanco, SPS Commerce, Avid Xchange, eRequester, and Dimension Funding, LLC - got down at the Summit After Dark Party at the Underground Chicago. The party was a huge success, and in true Website Pipeline fashion, the outfits were completely off-the-wall. Dressed in head-to-toe PBR tuxedos, our crew got some laughs (and perhaps a few strange looks) as we danced the night away with good friends.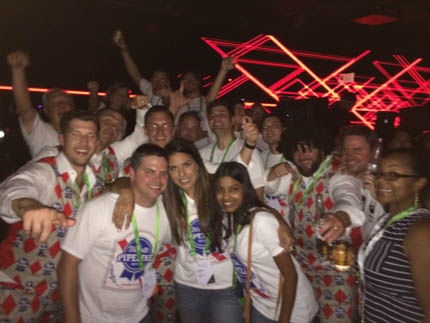 The next day - leaving our warm beds and self-medicating with strong coffee - we made our way back to the convention center for another full day of chatting with customers and partners.
The day included early morning keynotes by Sir Richard Branson and Stephen Kelly, who talked business models and architecting a brand that is built to last.
Brian Seidel again took the floor to talk about his own successes with organization strategy using the Agile methodology and inspiration from the book "Getting Things Done", while Don Martin, National Partner Manager at Website Pipeline, spoke to attendees about B2B e-commerce strategies.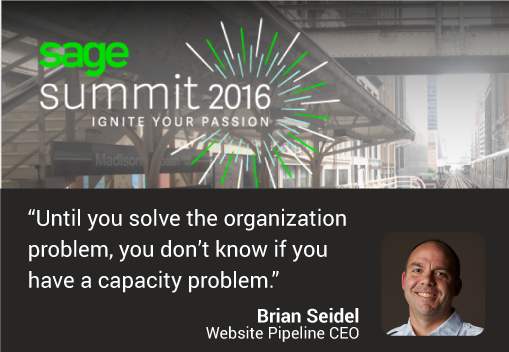 As things wrapped up on the show floor late Wednesday afternoon, participants and attendees took to the streets for a quick dinner before making their way to Northerly Island for Sage Summit's main evening event - a live concert by Grammy-nominated band, The Killers.
There, we again met up with familiar faces and, again, had a great time dancing all night long to some killer (excuse the pun) tunes - this time in matching tie-dye t-shirts. An ambitious attempt was made to deliver one such t-shirt onstage in the hopes it would be worn by a member of the band, but no such luck.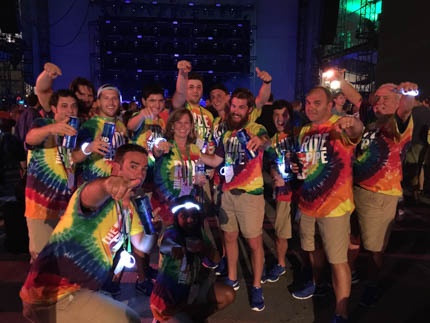 Day 3 - We hit the show early(ish), and get right down to it. The convention center is a hive of activity as Sage users, partners, and entrepreneurs make their final rounds - networking with peers and learning about the newest innovations in technology and business.
Although we are tired, we are excited to be there - excited about meeting so many new people and seeing the light bulb go off in their heads as we talk about specific solutions with the potential to meet their needs, fix their inefficiencies, and make their lives so much easier.
It seems we're just getting into the swing of things, and then - in the blink of an eye, it's over.
It's 3:00 on Thursday and the crowd disperses, replaced by skyjacks and boom lifts. We part ways with so many friends, old and new, and make promises to visit each other soon, to stay in touch, and to keep our business relationships strong.
We leave Sage Summit with a renewed determination to make the most of all the things we have learned, and to come back next year with even more of the passion and energy that made this year's event an undisputed success.
Now - to catch up on all that lost sleep.

...