Blog Home
Pictures from SC Fastest 25 Awards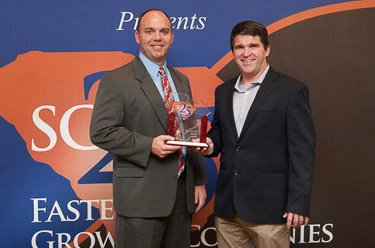 First, a serious matter
The attire in these pictures in no way reflects the dress code of the Website Pipeline office. We find that a casual dress code can enable creative and productive workdays, and we've found that the right employees will work hard, regardless of what they're wearing in the office. Plus, flip-flops are the official state shoe of South Carolina.
We may have even had an employee or two call in sick on the day of this award show because they didn't want to dress up for the trip to Columbia. Those of us who did make the trip usually get along well, but we fought most of this day, likely due to the discomfort caused by wearing shirts with buttons.
We are proud of our inclusion among the list of 25 fastest-growing companies in South Carolina, and found out during the luncheon event that we placed #24 on the list - not bad for our first time.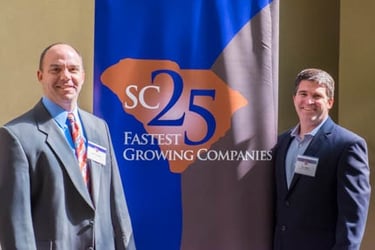 CEO Brian Seidel and CTO Eric Ward, both co-founders of Website Pipeline, pose outside the SC Fastest 25 awards luncheon. We had to crop this picture because they're wearing board shorts with flip-flops.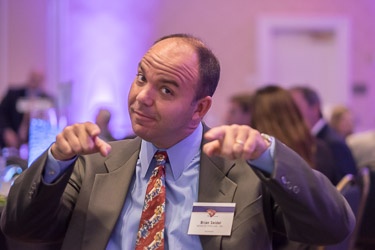 Brian demonstrates the signature "Website Pipeline Pointing", a gesture commonly seen across pictures of Website Pipeline's history.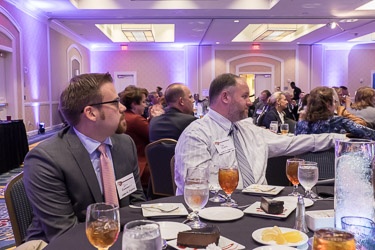 Developer John Summerlin, left, and Director of Digital Marketing Ted Goudie, right, listen to a presentation during the awards luncheon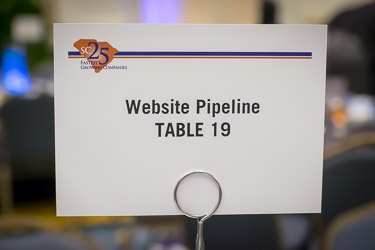 We hoped there would be a correlation between table number and ranking number. It turns out the correlation wasn't very strong.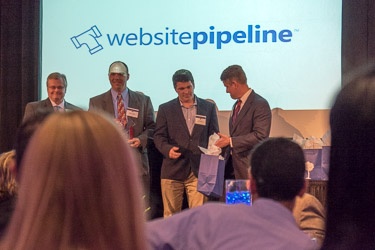 As they counted down from 25, we didn't have long to wait to find out where we ranked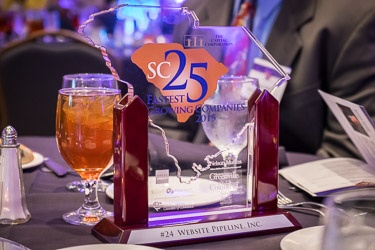 We're #1! er, um, #24!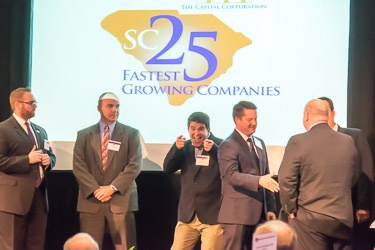 Eric demonstrates the Website Pipeline Pointing while all the winners gathered on stage.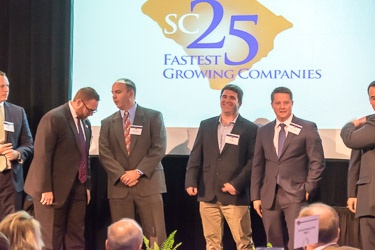 Brian explains that Website Pipeline Pointing is one of the keys to our growth.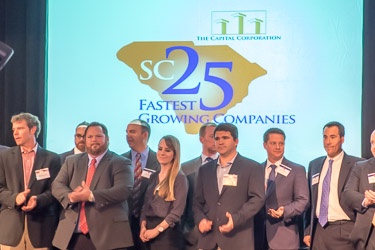 All the winners gathered on stage for a group photo.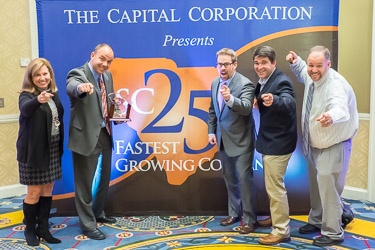 Pointing isn't just a senior leadership thing at Website Pipeline. From left: Mollie Woodside, Business Operations Manager; Brian Seidel, CEO; John Summerlin, Developer; Eric Ward, CTO; Ted Goudie, Director of Digital Marketing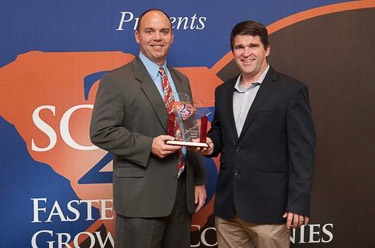 Courtesy of SC Fastest 25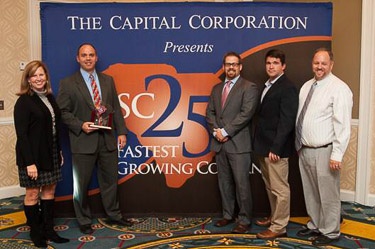 Courtesy of SC Fastest 25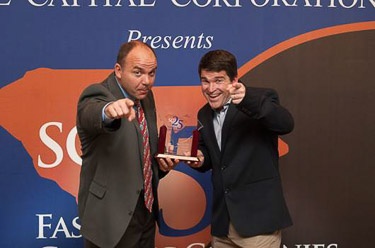 Courtesy of SC Fastest 25
Website Pipeline builds, hosts, and maintains ecommerce websites integrated to ERP systems for manufacturers, wholesalers, and distributors. To learn how we might help your company to get, keep and grow more customers, contact us today!