Blog Home
Partner Huddle 2015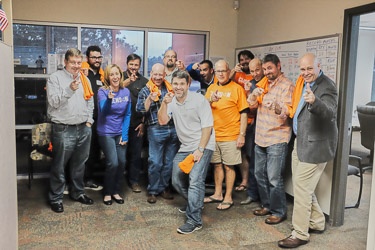 Last week, we had several business partners join us in the office for a half-day meeting. In attendance:
Harvey Payton & Greg Tisdale, Computer Management Services
Jeff Scott, Sage North America
Darin Steward, Steward Consulting
Randy Collins, Strategies Group
John Pezzino, United Solutions Group
Todd Martin, MBA Business Software
Jacob Scism, AccuPointe
Brian Nunes, SWK
Everyone arrived just in time for a Southern BBQ lunch, followed by an office tour. This included a preview of our office expansion project, as demolition had begun that same morning.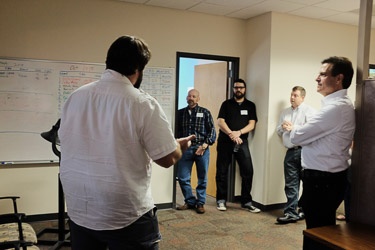 Eric Alexander tells the story of our 120-lb dinner bell as we start the tour.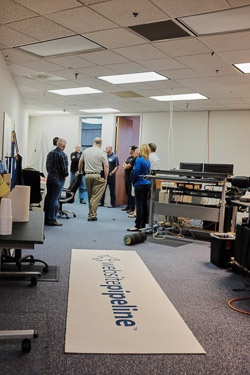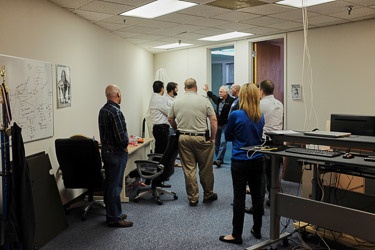 Our guests got a chance to chat with a few members of our Account Management team
Presentations and Discussions
Following the tour, we settled in for an afternoon of presentations and discussions led by the Website Pipeline team. Mollie Woodside got things kicked off with with an overview of our Business Operations team and how we make sure that our partners get their payments in a timely manner.
Gary Lamb then discussed our Project Management team and our processes for managing projects, followed by Chris Bradley covering our Account Management team and how they support our customers.
CTO Eric Ward followed with a deep dive into the architecture of our platforms and the amazing technology that protects our customer websites and keep them running. Look for a lot more on these topics in the near future!
Eric Alexander showed off some of our new and not-quite-released-yet product updates, and led a discussion of channel/partner opportunities. This morphed into a great discussion about marketing, positioning, and sales processes, among other things.
We managed to wind down fairly close to our scheduled end time, giving our out-of-town guests a chance to settle into their hotel before we headed out for the evening (no pictures forthcoming - sorry! We did tailgate the next day, and there are pictures from that event forthcoming...).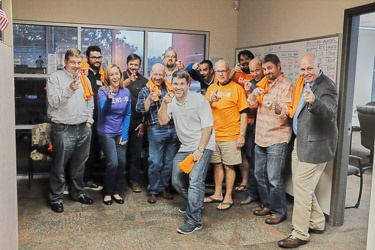 From left: Jacob Scism; Johnathan Schofield; Darcy Boerio; Randy Collins; Darin Steward; Todd Martin; Eric Ward; Don Martin; Harvey Payton; Eric Alexander; Greg Tisdale; Brian Nunes; Jeff Scott
A Bonding Experience
The Website Pipeline team found great value in having this much face time with business partners:
"Having all these guys here helps show them the size of our operation and how committed we are to being the best. It allows su to get to know them better outside of the normal trade show/customer call experience, and getting honest feedback from them definitely helps us moving forward." - Eric Alexander
Our guests also felt it was a valuable investment of their time:
"Thanks for a great weekend that was a fine mix of product, enlightenment, comraderie and Partee (social interaction with adults that enjoy being college kids).

It was good to get to know all of you a little better. We make a great team. Thank you for the hospitality and for including us." - Harvey Payton
Are you a Sage or Microsoft Dynamics Reseller interested in becoming a Website Pipeline partner? Check out the details of our Partner Program: http://www.websitepipeline.com/partners.asp