Blog Home
ITA Fall Collaborative 2015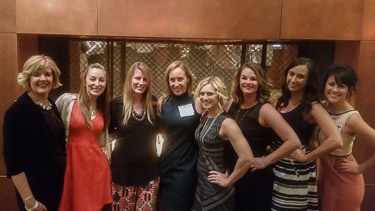 Rob McKay and I had the pleasure of representing Website Pipeline at the ITA Fall Collaborative this past week at the beautiful Westin Kierland Resort in Scottsdale, AZ. Hey, it's a tough job, but somebody has to do it!
Aside from the fact that they have their events at amazing venues like this (this past Spring, we were at the Sawgrass Marriott in Ponte Vedra Beach, FL), there are many reasons we love to participate in the Information Technology Alliance (aka ITA). The organization's motto itself sums it up: "Knowledge increases in value when it is shared."
The attendees at the Fall event included mid-market technology professionals, consultants and product/service providers. We saw colleagues from all the primary ERP channels (Sage, Microsoft Dynamics, Intacct, Infor, Acumatica, NetSuite, SAP, QBO) as well as many of our ISV friends (Avalara, Altec, Concur, Mapadoc, ADP, SPS Commerce, NetStock, Renovofyi, and many more). And of course, we made many new connections.
The typical attendees at these events are business leaders, and the session content reflects that profile. Many of the sessions are roundtables and workshops on topics selected based on attendee feedback. So sessions tend to be quite interactive, with attendees sharing their experience on the given topic. It is called the "Collaborative", after all! Some highlights:
Two sessions on Women in Leadership (these were attended by some of the real heavy-hitters in the biz…and some men, too!)
Ed Kless on his ever-popular topic of Value Pricing
Propelling Organizational Change moderated by Suzanne J Peterson, Ph.D. of Arizona State University's W.P. Carey School of Business
Keynotes by Karyn Buxman and Geni Whitehouse, two super-entertaining and informative women who we could listen to for hours.
It wasn't all work and no play. Social events gave attendees a chance to see old friends and make new connections. We love our 2-minute videos here at Website Pipeline (shameless plug – feel free to check out ours here: Website Pipeline: Customer Self-Service Portal for Sage and Microsoft Dynamics ERPs).
We couldn't resist documenting our experience with photos. Take a look!
Thank you to Stan, JoAnn, and all the ITA members who work so hard throughout the year to put on these amazing events!
If you are a mid-market technology professional, we hope to see you at the ITA Spring Collaborative at the Royal Sonesta in Houston, TX from 4/17-4/19!