Blog Home
A Busy April: ITA Spring Collaborative and a Sage Community Happy Hour
April proved to be a fantastic month for connecting with our partners! With two events the same week, we were able to answer questions about CIMcloud in person, and we of course left time for fun as well.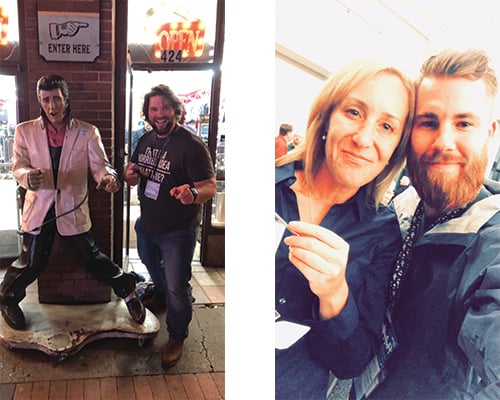 Eric Alexander (left), Darcy Boerio (DAB Partners and Enterprise Software Podcast), and Pat Scherz
First, Eric Alexander and Pat Scherz spent time in Nashville, TN for the ITA (Information Technology Alliance) Spring Collaborative. The ITA is an independent membership association of leading mid-market technology professionals, consultants, and product/service providers in North America that holds two collaboratives each year – and to borrow words from the event website, "this collaborative [was] extra special" because it commemorated ITA's 20th Anniversary.
The collaborative featured two full days of breakout sessions including four-hour deep dive workshops. Eric and Pat especially enjoyed practical takeaways from the "Managing Sales Performance for Results" workshop presented by LDK Consulting, Ltd. David Cieslak, Chief Cloud Officer and EVP with RKL eSolutions, returned as Inspector Gadget to share the latest tech trends and gear. And John Garrett, self-proclaimed "recovering CPA" and host of the Green Apple Podcast, led the opening session and facilitated the first-ever ITA Feud Gameshow amidst a chorus of laughter.
While CIMcloud has attended past collaboratives, this was Eric's first time attending. Eric reflected on Episode 81 of the Enterprise Software Podcast, that "there's kind of like a cult following around ITA that I'd heard about for years, and I didn't really know what to expect." Now that he's taken part, Eric noted that "the content is amazing" and "the sessions are very well-thought-out. I came away being a super fan of ITA!"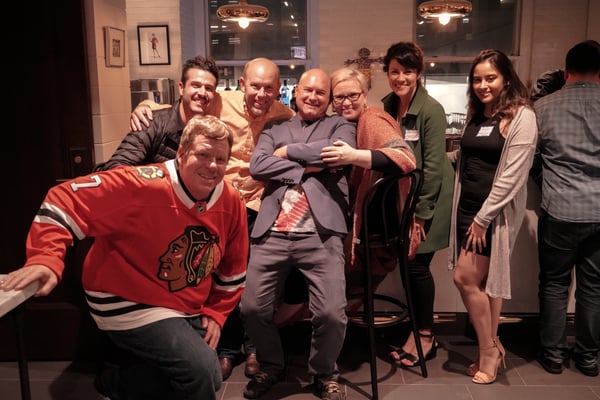 Gabriela Morales with Sage employees, resellers, and ISVs (photo taken by American Payment Solutions)
Later that week, CIMcloud co-hosted a Chicago Sage Community Happy Hour with other ISV partners from within the Sage ecosystem. The happy hour provided a neat opportunity and beautiful location to spend extra time with users and resellers who had attended the Sage Sessions Chicago event. (Some were even partners we had seen in Nashville as well!)
Whether it is at meetings such as ITA – a perennial favorite – or a few hours at a networking event, we always look forward to time spent with our partners. If you're attending an upcoming conference or holding an event of your own, let us know. We'd love to be there!
To learn more about ITA, please contact ITA President Stan Mork at stan.mork@italliance.com.