Is your future bright or scary? Understanding emerging cloud/SaaS applications and how they all fit together
Session: SAL-518
Tuesday, July 29
10:30 a.m.–12 p.m. PT

Message from Brian Seidel (session speaker)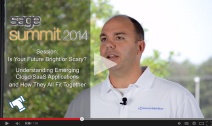 What will you learn at this session?
With lots of cloud/SaaS applications emerging, it's difficult to keep up with the market and see how they all fit together and how your business may benefit from using them. Brian Seidel, CEO of Website Pipeline, will take a look at some of the emerging trends and popular cloud products for e-commerce, CRM, customer self-service systems, product information management, quote generation, product configurators, email campaign systems, and marketing automation systems. He'll discuss some of the business pain points they attempt to solve, how they overlap, and how mobile is impacting them all.
Seating is limited, so be sure to logon at SageSummit.com and edit your session agenda to add this session.
Sage Summit Platinum sponsor—visit us in booth 907