Blog Home
2015 Company Award Winners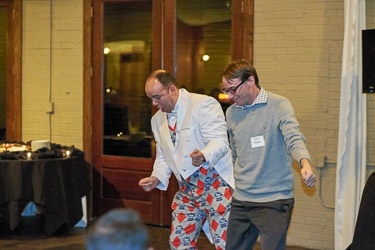 At our recent Holiday Party, individual performance awards were also handed out. These awards recognize contributors from across the company, and celebrates their efforts that drive our continued growth - 2015 was another record year for Website Pipeline.
Honor Roll Awards
This award recognizes employees: "as being a key player throughout 2015, by using their time & talents to provide valuable contributions to Website Pipeline employees & customers."
These employees made the Honor Roll for 2015:
Technical Account Manager (and face of the company), Kyle Gehrman
ERP Team Lead, Mark Davis
Design Team Lead, Matt Gleason
Developer and Training Team Lead, John Mark Smotherman
Project Management Team Lead, Charles Tennent
Project Manager, Spencer Patrick
Ticket Master, Hunter Summersett
Developer, Joe Kohler
Technical Account Manager, Danny Mecca
Designer, Steve Magee
We interrupt this Honor Roll to bring you...
...a dance-off. Of course.
Back to our Honor Roll winners...
Account Manager Nathan Welch was on a ski trip, but accepted his award via FaceTime
Software Developer, Matt Tingen
Account Manager, Bruce Brown
Software Developer, David Cohen
Software Developer, John Ek
Sales Ninja, Don Martin
Front End Developer, Jon Reece
We also had two additional winners who could not attend the event:
Darcy Boerio, Channel Development Manager
Brian Cain, Senior Software Developer
Star Performer Awards
Star Performers "are recognized as 'go-to' players amongst their peers. They have worked hard to develop their skills within their area of responsibility and uses them to support our customers and colleagues at Website Pipeline.
They consistently perform at the top of their game and have made a positive impact on the bottom line."
These employees earned Star Performer honors for 2015:
Product Release Team Lead, Jason Bagwell
Development Team Lead, Eric Johnston
One Star Performer got walkup music...
His walkup was so good even the hosts got in on the act. Sales Team Lead, Eric Alexander
Technical Account Manager, Neiman Schwartz
Project Management Team Lead, Jack Evans
Software Developer, Daniel Dara
ERP Team Developer, Andrew Kazura
Director of Account Management, Chris Bradley
Skynet Adminstrator, Tristan Walters
We also had one Star Perfomer who could not attend the event:
Gary Lamb, Director of Project Management/Customer Operations
Blue Vase Awards
The Blue Vase award is reserved for our highest performers, "for their outstanding contribution in 2015. Throughout 2015, they consistently and persistently demonstrated their "Go Getter" attitude by delivering the 'Blue Vase' of quality work and satisfied customers.
Simply put, they claimed more than their share of responsibility, overcame more than their share of obstacles, executed more than their share of work and delivered more than their share of results."
These employees earned Blue Vase honors for 2015:
ERP Team Technical Lead, Louis Roselli
Business Operations Manager, Mollie Woodside
Service Awards
15 years! Finance Manager, Lisa Seidel
10 years! Front End Developer, Jon Reece
Congratulations to all award winners, and thanks to all of our team for their hard and smart work in 2015. As we like to say in the office, more to come...