Blog Home
We're On The Deloitte Fast 500!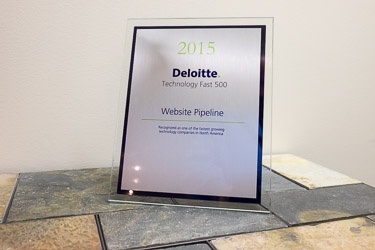 We're certainly proud of all the growth awards we've been honored with recently, but we're extra excited to announce that we've just been named to the Deloitte Fast 500 list of the fastest-growing companies in North America. This list has criteria that is near and dear to our heart, because inclusion on this list requires the majority of company revenue to come from propietary technology developed and owned by the company - that's what we do!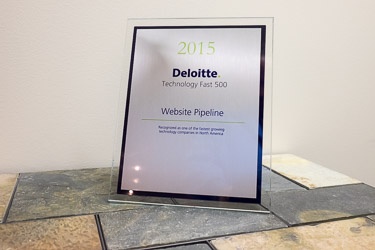 We're one of a handful of South Carolina companies to win this award since 1999, and only the second company in the Upstate region. More than 2/3 of the companies on this year's list are backed by venture capital, while our debt-free growth has been bootstrapped.
We're thankful for our amazing employees, customers, and partners who all help us continue to grow as a company!
Here's the press release:
Website Pipeline Ranked Number 481 Fastest Growing Company in North America on Deloitte's 2015 Technology Fast 500™
Greenville, SC — Website Pipeline today announced it ranked 481 on Deloitte's Technology Fast 500™, a ranking of the 500 fastest growing technology, media, telecommunications, life sciences and energy tech companies in North America. Website Piepline grew 119 percent during this period.
Website Pipeline's chief executive officer, Brian Seidel, credits laser focus and smart hiring with the company's revenue growth. He said, "We hire people capable of outsmarting and outworking the competition, and then make sure their efforts align with our single focus: building the best ERP-integrated eCommerce solutions for manfacturers and distributors."
"Amid a fierce business climate, there seems to be no shortage of new and established companies that are unlocking a seemingly unlimited potential for growth and advancement through technology's continued disruption and proliferation across industries," said Sandra Shirai, principal, Deloitte Consulting LLP and U.S. technology, media and telecommunications leader. "It is inspiring to witness the innovative ways that companies are incorporating emerging technologies for business gains, be it cognitive computing, or the Internet of Things. We congratulate all those ranked on this year's Fast 500 and look forward to seeing their continued growth into 2016."
"Through the efforts and utilization of new and emerging technologies from these companies, we are witnessing greater business demands from across almost all industries," added Jim Atwell, national managing partner of the emerging company practice, Deloitte & Touche LLP. "We look forward to the opportunity to serve these companies as they strive to grow to the next level – be it towards introducing new solutions or entering new markets – and with it make important and long lasting impressions on the technology market as a whole."
About Deloitte's 2015 Technology Fast 500™
Deloitte's Technology Fast 500 provides a ranking of the fastest growing technology, media, telecommunications, life sciences and energy tech companies – both public and private – in North America. Technology Fast 500 award winners are selected based on percentage fiscal year revenue growth from 2011 to 2014.
In order to be eligible for Technology Fast 500 recognition, companies must own proprietary intellectual property or technology that is sold to customers in products that contribute to a majority of the company's operating revenues. Companies must have base-year operating revenues of at least $50,000 USD or CD, and current-year operating revenues of at least $5 million USD or CD. Additionally, companies must be in business for a minimum of four years and be headquartered within North America.
About Website Pipeline
Website Pipeline is a Software-as-a-Service company that offers a cloud-based Front Office eCommerce platform, which includes Customer Self-Service Portals, Public and Private Web Stores, Sales Rep Tools, and API's. The platform integrates with back office Sage and Microsoft Dynamics ERP systems. Our solutions help small and mid-sized B2B companies get, keep and grow their customer base by enabling them to self-service anywhere, anytime, and from any device.
Founded in 1999, Website Pipeline is a boot-strapped, privately help, profitable, debt-free company with 60+ employees. They are based in Greenville, SC, have been named to the Inc. 5000 list for the past five consecutive years, and have been recognized multiple times among the fastest-growing companies in South Carolina.
If you'd like to know how Website Pipeline can help your business, click the link below to get in contact with us: