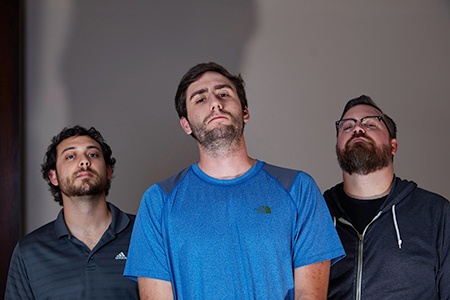 Kyle Gehrman is yet another developer we were able to pilfer from the Computer Science program at Clemson University.
As a software developer, ERP integration specialist, and self proclaimed Team Lead Pro Tempore, Kyle works on the data connection between a customer's ERP software and e-commerce website. He is responsible for making sure that all customer information, orders, pricing levels, order history, invoices, RMA's, and more are connected and synching in real time via our proprietary synch tool.
Since his arrival in 2014, he has held a special place in our hearts, and on the home page of Website Pipeline. As the thumbnail image of our "It's a great place to be" video, we has come to be known as "The face of Website Pipeline" - an honor he nobly bears, and fights to maintain amongst rumors to replace him.
What did you do prior to working here?
I did mobile development at Clemson University, and was an outside Sales Rep at Fastenal. I was also a Mechanical Tech at Advanced Automation, a company that builds assembly and manufacturing robotics, such as robots that assemble cars.
Where are you from?
Born near Cleveland Ohio, and grew up in upstate South Carolina.
What project/goal that you worked on are you most proud of?
I save every turtle that I come across on the road. Seriously.
What's the funniest thing that has happened at Website Pipeline?
A year or so ago, some recent college grads had just started and we decided to play a little joke on them. One of the developers, Blake (who is very easy going), checked in some code that was causing issues for a couple of clients, nothing too serious but we decided to scare him a little.
The plan was for our CTO, Eric Ward, to go over to the training area and blow up on the new guy to give him the impression that he was in real trouble. I did not expect what happened next.
Eric marched over there and just absolutely went off. Blake, who was doing very well in training, was obviously extremely apologetic and started to look into the issue immediately. During all this, the plan was for me to come out of my office and join the discussion and say that several clients wanted to cancel due to this issue. The problem was Eric was drilling Blake so hard I absolutely could not keep a straight face. I had to ruin the prank and tell him that it was just a joke.
Long story short… I bet I have a couple of pranks coming my way one of these days.
What's your favorite hobby/what do you like to do outside of work?
Currently, I spend way too much of my time participating on the web forum site Reddit. I participate in daily heated discussions on topics like: politics, technology, college football and investing.
I also enjoy paying down my student loans, as well as bacon.
What programming languages are you fluent in?
Start at the top: https://en.wikipedia.org/wiki/List_of_programming_languages
Have you won any Website Pipeline awards?
2015 - Honor Roll
2015 to Present - "Face of the Company"
(Hypothetical) Fastest Person in the Office
What's your favorite thing to watch on TV?
My favorite movie is Joe Dirt.
Who is your hero/someone you look up to?
1. Nate Silver - I really admire his opinions and have read all of his books.
2. Dan Chapman, because he is a bundle of JOY.
Do you have any nicknames?
You can address me as Kyle, or Sir. I believe I've earned it.
What is one thing you couldn't go a day without?
Coffee.
Who would you want to play you in a movie about your life?
Our Director of Account Management, Chris Bradley. He already strives to be like me so it would be an easy role for him.
Do you have any pet peeves/things you hate?
I hate screamo music, and Keisha.
What is your life motto/favorite quote?
"I am damned if I do and I am damned if I don't" - Louis N. Roselli
"Give me a beer and I want to see something naked" - Jeff Foxworthy
What is your theme song?
"Myrtle Beach" by Sunny Ledfurd
"Natalie's Rap" by The Lonely Island
Tell us one interesting thing about you that not a lot of people know.
I once won a national championship in Tae Kwon Do. The part I NEVER share is I was only 9 years old at the time...
Describe yourself in 3 words.
Dependency-Injection

$

Cloud-Based
Kyle is one of 60+ Website Pipeline employees, all of whom are in North America. If you happen to stop by the office and are wondering who the guy in the cardboard box riding a scooter is - yeah, that's Kyle. You can learn more about the Website Pipeline culture on our website, or visit our Meet The Team page to see more WSP employees.
---